coming soon!!!!

check back on this thread
The video before shipping to Jawa Timur
After arriving in Jawa Timur
Pond we use to grow them
Video after arriving in Jawa Timur
OYAGOI: TM KOHAKU 96cm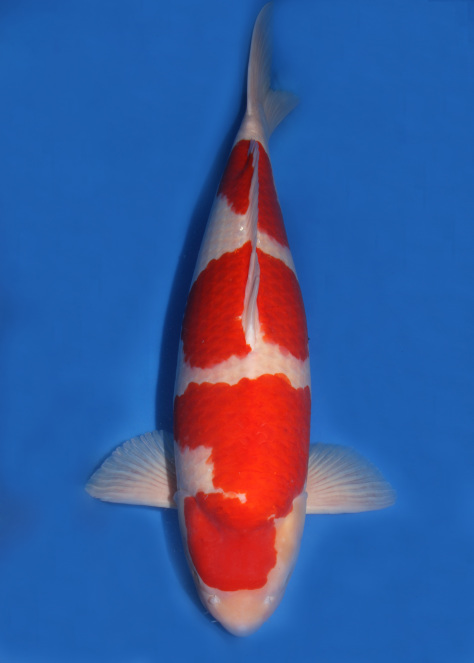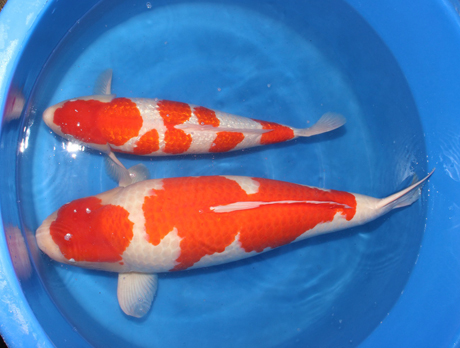 When they are small babies: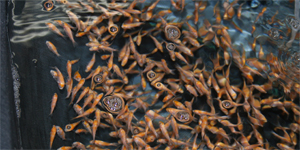 Please support us by joining this fabulous event
ENGLISH
MOMOTARO TOSAI GINRIN BENIGOI GROW OUT EVENT
We have selected 80pcs Tosai Ginrin Benigoi offsprings of TM KOHAKU 96cm from Momotaro Koi Farm which we will grow them in 300 tonnes mud pond in Mountain Trawas, East Java Province in Indonesia. Good One Koi Farm will grow these beautiful tosai for 6 Months from 15 June to 15 December 2017 in their facility. We thank Mr Ong Kuswandy as Konishi Koi Food Importer for sponsoring this event and we will feed these ginrin benigoi with Konishi Koi Food. During 6months period, we hope these koi will grow minimum up to 50cm in length and we try our best to reach this goal.

The scheme for this event will be as followings. We will only sell from the best selected 50pcs from these 80pcs group. During the grow out, estimated 2 or 3 times, we will harvest them to check growth and health conditions of the fish and we will select out the fishes which don't meet our requirements and expectations. We will sort only the best 50pcs until the last harvest.

How to buy and select the koi? We will start to sell these koi from June 15th, 2017 by offering the sale in www.forumdodokoi.com. Due to the similarities among the fish we will grow, customers will select the fish at the end of the grow out event. The selection of these fish are based on the RANK the customers will buy which they will select the koi.

We will divide into 3 groups from these batch and we will close each batch based on time or numbers whichever comes first. Then, we will randomly lucky-draw each customer name to determine their rank in each period.
1. 15 June 2017 – 21 June 2017: Group 1 @ IDR 6,000,000 /pc, we will sell RANK 1-10
2. 22 June 2017 - 6 July 2017: Group 2 @ IDR 5,000,000/pc. We will sell RANK 11-30
3. 7 July 2017 – 15 December 2017 : Group 3 @ IDR 4,000,000/pc. We will sell RANK 31-50

 Explanation of buying the rank:
Starting 15 June 2017, we will accept order of participations on this event for Group 1. We will close Group 1 if numbers of participation have reached 10 participants and we can continue to Group 2 to sell rank no 11-30. Soon, we will lucky-draw the name of 10 Participants in Group 1 to determine their rank to select these koi at the end of the event. The first 10 registrants will get the first 10 selections. If by the end of period 1 (15-21 June 2017), we cannot get 10 participants, the committee will select the rest of free slots until rank 20th fulfilled. Then, we will continue the sale of Group 2 in June 22nd 2017. The same rule will apply for transistion of Group 2 to Group 3. The cut-off time we are using is 12 NOON in www.forumdodokoi.com for each period. If you cannot come at the day of the selection, we have prepared a team consist of Koi Judges, Breeders, and Hobbyist to select the best of the koi from the harvested event koi, OR, you can assign your trusted representative to select your koi on your behalf.

The risk of the event we will guarantee is only the death of the koi. If we experience a tragedy of mass death on this event that we don't have enough number of koi we can offer to you, we will fully refund back your money at the end of the event. At the end of the event, we will take photo of your koi, and we will make each koi with individual certificate from Momotaro Koi Farm.
BAHASA INDONESIA
KEGIATAN PEMBESARAN MOMOTARO TOSAI GINRIN BENIGOI
KEGIATAN INI ADALAH KOLABORASI ANTARA: MOMOTARO KOI FARM, FORUMDODOKOI, GOOD ONE KOI FARM DAN KONISHI KOI FOOD.
Panitia telah memilih 80 ekor tosai terbaik dari Momotaro Tosai Ginrin Benigoi anakan dari TM KOHAKU 96cm dari Momotaro Koi Farm yang akan kita besarkan di kolam tanah berdimensi 300 ton air di Gunung Trawas, Jawa Timur, Indonesia. Good One Koi Farm yang akan membesarkan tosai-tosai yang cantik ini selama 6 bulan mulai dari 15 June hingga 15 December 2017 di fasilitas mereka. Panitia berterima kasih kepada Bapak Ong Kuswandy selaku importir Makanan Ikan Konishi untuk menjadi salah satu pendukung utama di event ini dan kami akan memberi makan ginrin benigoi ini dengan Makanan Ikan Konishi. Selama masa pembesaran 6 bulan ini, kami berharap koi-koi ini akan mencapai minimum panjang di 50cm dan kami akan berusaha semampu kami untuk mencapai target ini.

Skema dari event ini adalah sebagai berikut: Panitia hanya akan menjual 50 ekor ikan terbaik dari 80 ekor yang akan kita coba besarkan. Selama masa pembesaran, diperkirakan kita akan mengangkat mereka sebanyak 2-3 kali untuk pemeriksaan kesehatan dan ukuran mereka dan kita akan mengeluarkan ikan-ikan yang tidaj memenuhi persyaratan dan harapan panitia. Panitia hanya akan memilih dan membesarkan 50 ekor terbaik hingga panen terakhir di akhir acara ini.

Bagaimana cara membeli dan memilih koi? Panitia akan mulai menjual ikan-ikan ini dari 15 Juni 2017 dengan menawarkan penjualannya di www.forumdodokoi.com. Karena kesamaan dari jenis ikan yang akan kita besarkan, partisipan akan memilih ikan di akhir acara pembesaran ini. Pemilihan ikan-ikan ini akan berdasarkan RANKING yang diterima oleh Partisipan.

Panitia akan membagi 3 grup dari acara ini dan kami akan menutup setiap grupnya berdasarkan jumlah kuota yang telah terpenuhi atau berdasarkan waktu yang terlah ditentukan tergantung dari mana yang telah terpenuhi terdahulunya. Lalu, kami akan mengundi secara acak setiap nama partisipan untuk menentukan ranking mereka di setiap periodenya.
1. 15 June 2017 – 21 June 2017: Group 1 @ IDR 6,000,000 /pc, kami akan menjual RANK 1-10
2. 22 June 2017 - 6 Juli 2017: Group 2 @ IDR 5,000,000/pc, kami akan menjual 11-30
3. 7 juli 2017 – 15 December 2017 : Group 3 @ IDR 4,000,000/pc, kami akan menjual RANK 31-50

 Penjelasan dari pembelian ranking:
Setelah 15 Juni 2017, Panitia akan menerima pesanan untuk berpartisipasi di acara ini untuk Group 1. Panitia akan menutup grup 1 jika jumlah partisipan sudah mencapai angka 10 dan kita dapat melanjutkan ke penjualan grup 2 untuk rank 11-30. Setelah itu, kita akan mengundi nama 10 peserta di grup 1 untuk menentukan RANKING mereka untuk memilih koi pada akhir acara ini. 10 pendaftar pertama akan mendapatkan 10 ranking pertama. Jika pada akhir acara periode 1 (15-21 Juni 2017), Panitia tidak mendapatkan 10 peserta, maka panitia akan memilih slot yang tersedia hingga ranking ke 10 tercapai. Lalu panitia akan mulai menjual Group 2 di 22 Juni 2017. Peraturan yang sama juga berlaku bagi perpindahan dari group 2 ke Group 3. Batas tenggang waktu yang digunakan di acara ini adalah jam 12 SIANG waktu server forumdodokoi.com. Jika peserta tidak dapat menghadiri acara pemilihan ikan, panitia telah mempersiapkan sebuah tim yang terdiri dari Juri Koi, Penangkar dan Penghobby Koi untuk memilih koi terbaik yang ada di dalam koi yang telah dipanen, ATAU anda dapat menunjuk perwakilan kepercayaan anda untuk memilih koi bagi anda.

Resiko yang akan dijamin dalam acara ini adalah hanya resiko kematian. Jika panitia mengalami musibah kematian masal dan kami tidak memiliki jumlah koi yang cukup untuk ditawarkan kepada para partisipan, maka kami akan mengembalikan uang anda secara penuh. Pada akhir acara, panitia akan mengambil photo koi anda, dan kami akan membuatkan sertifikat individual dari Momotaro Koi Farm
ANY QUESTIONS?
ADA PERTANYAAN?
DODO @ 081586424050 / 08170922688
PERHATIAN:
URUTAN 1-10 (BUKAN FINAL TAPI HANYA TAROH NAMA)
1. KEVIN HANDOKO CUSTOMER
2. KEVIN HANDOKO CUSTOMER
3. KEVIN HANDOKO CUSTOMER
4. KEVIN HANDOKO CUSTOMER
5.
6.
7.
8.
9.
10.
tambah peserta lagi 2 dari kevin handoko and 1 dari pak ivrahim palu koi ... total 7 peserta untuk group no 1
rangking urut milih no 1 smp 10
thank you konishi for 2kg free konishi grow every paryicipants
1. Eka R.S surabaya
2. Alexandria surabaya
3. Jimmy N surabaya
4. Rommy makassar
5. Williem jakarta
6. Ibrahim Palu
hi, dikarenakan menyambut lebaran 2017
maka akan ada perubahan waktu pemilihan ikan

demikian perubahannya:

1. 15 June 2017 – 21 June 2017: Group 1 @ IDR 6,000,000 /pc, kami akan menjual RANK 1-10
2. 22 June 2017 - 6 Juli 2017: Group 2 @ IDR 5,000,000/pc, kami akan menjual 11-30
3. 7 juli 2017 – 15 December 2017 : Group 3 @ IDR 4,000,000/pc, kami akan menjual RANK 31-50

harap maklum,

DODO KOI
GROUP 2 @ Rp 5,000,000

11. Vivi Tiara Ashley Surabaya
Who is online
Users browsing this forum: Fajar1010 and 5 guests